Dr.
Julia Eva
Wannenmacher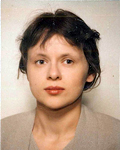 Internationales Kolleg für Geisteswissenschaftliche Forschung "Schicksal, Freiheit und Prognose. Bewältigungsstrategien in Ostasien und Europa"
Hartmannstr. 14
91052 Erlangen
Telefon:

+49 9131 85 64346
IKGF Visiting Fellow: November 2014 - April 2015
IKGF Research Projects:
"Super Hieremiam" - Prophecy and Politics in the 13th Century
The "Pseudo-Joachim" commentary ′Super Ieremian′. Edition and open Questions
Curriculum Vitae
Julia Eva Wannenmacher studied Theology, Classical Latin and Philosophy at the Universities of Berlin West and East, and received her PhD in Church History at the University of Erlangen-Nuremberg in 2002. She has been collaborating at several critical editions in medieval theology (Joachim of Fiore) and 19th century philosophy (German Idealism). She has been teaching Medieval History, Church History and Systematic Theology at the Humboldt-University of Berlin and the University of Erlangen-Nuremberg.
Her main interests are medieval exegesis and theology, apocalypticism and political prophecy from Antiquity to Early modern times. She also contributed to the field of the history of monastic orders and reform in Early modern times, and most recently to the growing field of Human-Animal Studies in the history of ideas and systematic theology.
Up
Selected Publications
I. Bücher
Hermeneutik der Heilsgeschichte. De septem sigillis und das Motiv der sieben Siegel im Werk Joachims von Fiore, Studies in the History of Christian Traditions 118, Leiden – Boston, Brill, 2005 (mit Edition)
Giacomo Greco, La Cronologia dell'Abbate Gioacchino e dell'Ordine Florense (1612). Un introduzione, Bari, Rubettino Editore, 2008
(Ed.) Joachim of Fiore and the Influence of Inspiration. Essays in Memory of Marjorie Reeves, Farnham, Ashgate, 2013
II. Aufsätze
De septem sigillis: Exegese zwischen Tradition und Innovation, Florensia, Bollettino del Centro Internazionale di Studi Gioachimiti, 12 (1998), S. 7-18
Die Macht des Bösen. Zur Rolle und Bedeutung des Antichristen in der Eschatologie Joachims von Fiore, Florensia, Bollettino del Centro Internazionale di Studi Gioachimiti, 13/14 (1999/2000), S. 365-378
Matthaeus Guerra (†1578), Autor eines Kommentars zum Psalterium decem chordarum?, Florensia, Bollettino del Centro Internazionale di Studi Gioachimiti, 15 (2001), S. 99-107
Exegese und (elektronische) Zukunft: Zur Edition der Werke Joachims von Fiore, in: Edieren in der elektronischen Ära, Informationstechnologie und Geisteswissenschaften 1, ed. Gottfried Reeg, Martin J. Schubert, Berlin, 2004, S. 145-160
Die Geographie des Unendlichen: (Räumliche) Vorstellungen von Paradies und Inferno im Mittelalter , in: Frömmigkeit – Theologie – Frömmigkeitstheologie. Contributions to European Church History. Festschrift für Berndt Hamm zum 60. Geburtstag, ed. Gudrun Litz et al., Leiden – Boston, Brill, 2005, S. 47-63
Alpha und Omega: Joachim von Fiore in der Theologie des 12. Jahrhunderts. Versuch einer Standortbestimmung, in: What is »Theology« in the Middle Ages? Religious Cultures of Europe (11th-15th Centuries) as reflected in their Self-Understanding, Jahrestagung der Internationalen Gesellschaft für Theologische Mediävistik 2004, ed. Mikolaj Olszweski, Archa Verbi Subsidia 1, Münster, Aschendorff, 2007, S. 103-119
Das Tor zur Ewigkeit. Grenzerfahrung und Vision in der mittelalterlichen Apokalyptik, in: Religionen - Die religiöse Erfahrung. Religions - The Religious Experience, Eranos, Neue Folge 14, ed. Matthias Riedl, Tilo Schabert, Würzburg, Königshaus & Neumann, 2008, S. 143-152
Dragon, Antichrist, Millennium: Joachim of Fiore and the Opening of the Seals, in: L'Apocalisse nel Medioevo. Atti del Convegno Internazionale dell'Università degli Studi di Milano e della Società Internazionale per lo Studio del Medioevo Latino (S.I.S.M.E.L.), Gargnano sul Garda, 18-20 maggio 2009, a cura di Rossana E. Guglielmetti, Firenze, SISMEL - Edizioni del Galluzzo, 2011, S. 445-469
Apocalypse, Antichrists and the Third Age: Joachim of Fiore's Peaceful Revolution, in: Ancient Christian Interpretations of "Violent Texts"in the Apocalypse, ed. Joseph Verheyden, Tobias Nicklas und Andreas Merkt, Göttingen, Vandenhoeck und Ruprecht, 2011, S. 267-286
Between Love and Law: The Concept of Norm in Joachim of Fiore, in: Contemporary Perspectives on the Medieval World. The Concept of Norm, 2/2010, ed. Laura Badescu, Pitesti/Romania, Tiparg Publishing House, 2011, S. 411-415
Joachim or Joachimist: The Short Version of the Psaltery of Ten Chords in Context. Introduction and Critical Edition, in: Joachim of Fiore and the Influence of Inspiration. Essays in Memory of Marjorie Reeves, ed. Julia Eva Wannenmacher, Farnham, Ashgate, 2013, S. 117-144
Auf der Suche nach dem Millennium: Von Joachim von Fiore bis zum Dritten Reich, in: Gott in der Geschichte. Zum Ringen um das Verständnis von Heil und Unheil in der Geschichte des Christentums, ed. Mariano Delgado, Volker Leppin, Stuttgart, Academic Press Fribourg, Kohlhammer, 2013, 159-182
Pursuing the Millennium: From the Chained Dragon to the Third Reich, in: FATE. International Consortium for Research in the Humanities: Fate, Freedom and Prognostication 04/13, 8-9 (Newsletter in Englisch und Deutsch, auch online: http://www.ikgf.uni-erlangen.de/content/newsletter/IKGF-Newsletter-2013-04-deutsch.pdf)
Ein Wandel in der Auslegung durch Joachim von Fiore?, in: Tot sacramenta quot verba. Die Kommentierung der Apokalypse von den Anfängen bis ins 12. Jahrhundert, ed. Rainer Klotz, Christoph Winterer und Konrad Huber, Münster, Aschendorff, 2014 , S. 289-310
Ambivalenzen einer Beziehung: Das Tier in der Theologie, in: Disziplinierte Tiere? Perspektiven der Human-Animal Studies für die wissenschaftlichen Disziplinen, ed. Reingard Spannring, Karin Schachinger, Gabriela Kompatscher, Alejandro Boucabeille, Bielefeld, Transcript Verlag, 2015, 287-319
The Spiny Path of Salvation. Linear and Cyclical Structures of History in Joachim of Fiore, in: Biologisme et Cyclicité dans la Philosophie de l'Histoire. Cycle de conférences 2010-2013, Université Libre de Bruxelles, ed. David Engels (erscheint 2015)
III. Rezensionen
Anton Leichtfried, Trinitätstheologie als Geschichtstheologie. De sancta Trinitate et operibus eius Ruperts von Deutz (ca. 1075–1129), Studien zur systematischen und spirituellen Theologie. 37, Würzburg, 2003, in: Archa Verbi 1 (2004), S. 191-194
Andreas Merkt, Das Fegefeuer. Entstehung und Funktion einer Idee, Darmstadt, Wissenschaftliche Buchgesellschaft, 2005, in: H-Soz-u-Kult, 19. 7. 2005 <http://hsozkult.geschichte.hu-berlin.de/rezensionen/2005-3-042>
Gian Luca Potestà, Il Tempo dell'Apocalisse. Vita di Gioacchino da Fiore, Bari, 2004, in: Journal of Ecclesiastical History 58 (2007), S. 327
Anke Holdenried, The Sibyl and her Scribes. Manuscripts and Interpretation of the Latin Sibylla Tiburtina c. 1050-1500, Church, Faith and Culture in the Medieval West, Aldershot, Ashgate, 2006, in: H-Soz-u-Kult, 11. 4. 2007 <http://hsozkult.geschichte.hu-berlin.de/rezensionen/2007-2-021>
Christian Jostmann, Sibilla Erithea Babilonica. Papsttum und Prophetie im 13. Jahrhundert, Hannover, Verlag Hahnsche Buchhandlung, 2006, in: H-Soz-u-Kult, 11. 4. 2007 <http://hsozkult.geschichte.hu-berlin.de/rezensionen/2007-2-021>
Wolfram Brandes, Felicitas Schmieder (ed.), Endzeiten. Eschatologie in den monotheistischen Weltreligionen, Berlin, 2008, in: H-Soz-u-Kult, 22.06.2009 <http://hsozkult.geschichte.hu-berlin.de/rezensionen/2009-2-213>
Ineke van 't Spijker (ed.), The Multiple Meaning of Scripture. The Role of Exegesis in Early-Christian and Medieval Culture, Commentaria. Sacred Texts and their Commentaries: Jewish, Christian and Islamic 2, Leiden, Brill, 2009, in: H-Soz-u-Kult, 16.12.2009 <http://hsozkult.geschichte.hu-berlin.de/rezensionen/2009-4-231>
Balduinus Cantuarensis archiepiscopus, Liber de sectis hereticorum et orthodoxe fidei dogmata, ed. Jose Luis Narvaja, Rarissima Mediaevalia II, Münster, Aschendorff, 2008, in: Zeitschrift für Kirchengeschichte 122 (2011), S. 111-113
Gabriela Kompatscher, Albrecht Classen, Peter Dinzelbacher (ed.), Tiere als Freunde im Mittelalter. Eine Anthologie, Badenweiler, Wissenschaftlicher Verlag Dr. Michael P. Bachmann, 2010, in: H-Soz-u-Kult, 29. 06. 2011 <http://hsozkult.geschichte.hu-berlin.de/rezensionen/2011-2-245>
Rainer Berndt SJ (ed.), Bibel und Exegese in der Abtei Saint Victor zu Paris. Form und Funktion eines Grundtextes im europäischen Raum, Corpus Victorinum, Instrumenta, Vol. 3, Münster, Aschendorff, 2009, in: AKG 94 (2012), S. 237-239
Wolfram Brandes, Felicitas Schmieder (ed.), Antichrist: Konstruktionen von Feindbildern, Berlin, Akademie Verlag, 2010, in: H-Soz-u-Kult, 06.06.2012 <http://hsozkult.geschichte.hu-berlin.de/rezensionen/2012-2-163>
Mariano Delgado, Volker Leppin (ed.), Der Antichrist: Historische und Systematische Zugänge, Studien zur christlichen Religions- und Kulturgeschichte 14, Fribourg/Stuttgart, Academic Press/Kohlhammer, 2011, in: H-Soz-u-Kult, 06.06.2012 <http://hsozkult.geschichte.hu-berlin.de/rezensionen/2012-2-163>
Leonie Franz, Wahre Wunder: Tiere als Funktions- und Bedeutungsträger in mittelalterlichen Gründungslegenden, Beitrage zur älteren Literaturgeschichte, Heidelberg, Universitätsverlag Winter, 2011, in: AKG 95 (2013), S. 211ff.
Burkhard Dohm, Cecilia Muratori (ed.), Ethical Perspectives on Animals, 1400-1650, Micrologus; 55, Firenze: Edizioni del Galluzzo - SISMEL, 2013, in: H-Soz-u-Kult in: H-Soz-Kult, 03.09.2014
Celia Deane-Drummond, Rebecca Artinian-Kaiser, David L. Clough (ed.), Animals as Religious Subjects. Transdisciplinary Perspectives, AKG 2015 (zum Druck eingereicht)
Pia F. Cuneo, Animals and Early Modern Identity, Farnham 2014 (in Vorbereitung)
IV. Vorträge
Joachim of Fiore - Between Exegesis and Eschatology, International Medieval Congress, Leeds, 10.-13. Juli 2000
Cui bono? Über den Sinn und Nutzen einer Übersetzung der Werke Joachims von Fiore Editorenforum, Albertus Magnus Institut, Bonn, Februar 2002
Joachim von Fiore: Einige Einblicke in (s)eine Werkstatt, Mittelalter-Kolloquium Prof. Dr. Johannes Helmrath, Institut für Geschichtswissenschaften, Humboldt-Universität zu Berlin, 20. Januar 2003
De septem sigillis oder die sieben Siegel mittelalterlicher Geschichtsauffassung, Jahrestreffen der Societas Mediaevistica, Bergische Universität Wuppertal, Februar 2003
Sights and insight: Intelligentia spiritualis and the Role of Visions in Life and Work of Joachim of Fiore, Summer Conference, Ecclesiastical History Society, Exeter, Juli 2003
The Blessed Lady who came over the Lake. Joachimist Ideas and Apocalyptic Imagery in George Eliot's Romola, 6° Congresso Internazionale, San Giovanni in Fiore, 23.-25. September 2004
Projektvorstellung: A Companion to Joachim of Fiore. Ein Werkstattbericht, Jahrestreffen der Societas Mediaevistica, Universität Jena, März 2007
Joachim of Fiore: Between Prophecy and Exegesis The 2nd Annual 'Symposium by the Sea': Medieval Prophecy, University of Wales, Swansea, 23. Mai 2008
The Third Quadriga: Gregory IX, Joachim of Fiore, and the Florensian Order, International Medieval Congress, Leeds, 13.-16. Juli 2009
The Abbot and the Concubines: Joachim of Fiore and the Harem of Solomon, International Medieval Congress, Leeds, 12.-15. Juli 2010
Die dritte Quadriga: Gregor IX. über Dominikus, Joachim von Fiore und die neuen Orden, Jahrestreffen der Societas Mediaevistica, Universität Erlangen-Nürnberg, Februar 2011
Von Albertus Magnus bis René Descartes: Über Seele und Empfindungsfähigkeit von Tieren, Tierrechtskongress 2011, Wien, 8.-11. Dezember 2011
Geschichte als Ankunft einer neuen Zeit: Joachim von Fiores Vision und deren Wirkung, Symposium an der Universität Fribourg: Gott in der Geschichte. Zum Ringen um das Verständnis von Heil und Unheil in der Geschichte des Christentums, Universität Fribourg/Schweiz, 22.-24. März 2012
Pursuing the Millennium: From the Chained Dragon to the Third Reich, IKGF Lecture, FAU Erlangen-Nürnberg, 8. Mai 2012
Joachim von Fiore, Prophet oder Ketzer, IKGF Workshop PD Dr. Hannes Möhring, FAU Erlangen-Nürnberg, 18. Mai 2012
Der pseudojoachimische Kommentar "Super Hieremiam": Text, Edition und offene Fragen, Oberseminar Prof. Dr. Klaus Herbers, FAU Erlangen-Nürnberg, 11. Juni 2012
Pursuing the Millennium: From the Chained Dragon of Revelation to the Third Reich and Communists in the 20th century, IKGF Studientag, Universität Shandong, Jinan/China, 10. September 2012
Über Seele und Empfindungsfähigkeit von Tieren im abendländisch-christlichen Denken, Ringvorlesung Human-Animal Studies der Universität Innsbruck, 11. Oktober 2012
Das Tier im theologischen Denken des Mittelalters, Philosophisches Seminar PD Dr. Reinhard Margreiter am Institut für Philosophie der Humboldt-Universität zu Berlin, September 2013
Theologie und Tier – Ambivalenzen einer Beziehung. Human-Animal Studies Konferenz: Im Spannungsfeld zwischen ethischen Werten und wissenschaftlicher Objektivität, Universität Innsbruck, 6.-8. Februar 2014
Pilgrimage, Prophecy and the Influence of Inspiration. Vortrag zur Buchvorstellung von "Joachim of Fiore and the Influence of Inspiration: Essays in Memory of Marjorie E. Reeves", IKGF-Lecture, FAU Erlangen-Nürnberg, 17. Juni 2014
The King and I: Prophecies right or wrong, and their Consequences from Joachim of Fiore to Nostradamus, IMC Leeds, 7.-10. Juli 2014
Signs of Time, Senses of Scripture – Joachim of Fiore between Exegesis and Prophecy, Medialatinitas 2014 – VIIe Congrès international de latin médiéval: Le sens du temps, ENS Lyon, 10.-13. September 2014
Pseudo-Joachim's(?) Super Ieremiam: Author – Text - Edition, 8° Congresso Internazionale di Studi Gioachimiti: Ioachim posuit verba ista. Gli pseudoepigrafi di Gioacchino da Fiore dei secoli XIII e XIV, San Giovanni in Fiore, 18.-21. September 2041
Gekreuzigte Frösche, heilige Kühe. Von Göttern, Menschen und anderen Tieren, Tierrechtskongress 2014, Wien, 9.-12. Oktober 2014
Tierethik: Bruder Schwein, Schwester Kuh? Religion(en) – Speziesismus – Gewalt, ESG (Evangelischen Studierendengemeinde) Berlin, 27. November 2014
The Super Hieremiam. Multiple Drafting of a Dream, XVIII Annual Conference of the Società Internazionale per lo Studio del Medioevo Latino: Authoritative Anonymous Texts. A Canon of Anonymous Works in the Medieval Latin Literature, Firenze, 27. März 2015
---