Dr.
Michelina
di Cesare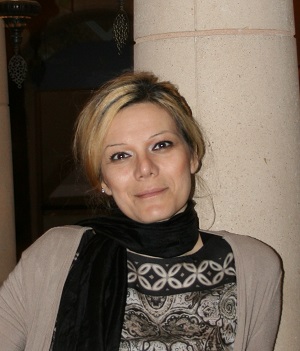 Internationales Kolleg für Geisteswissenschaftliche Forschung "Schicksal, Freiheit und Prognose. Bewältigungsstrategien in Ostasien und Europa"


IKGF Visiting Fellow July 2015 - September 2015
IKGF Research Project
The Idol of the Prophet Muhammad in the Templum Domini as an Eschatological Metaphor
Curriculum Vitae
Michelina Di Cesare (born in Sulmona, Italy, in 1975) studied Classics at the University of Rome "La Sapienza" and then Medieval book culture at the School of Advanced Studies for Curators of Medieval Archives and Books (Scuola di Specializzazione per Conservatori di Beni Archivistici e Librari della Civiltà Medievale) at the University of Cassino. In 2006, she obtained a PhD in Greek and Latin Philology and, in 2014, a Post-Doctoral Lecture Qualification as Associate Professor of Medieval Latin (ASN 2012). She has been Max-Planck-Postdoctoral Fellow at the Kunsthistorisches Institut in Florenz – Max-Planck-Institut , Postdoctoral Fellow at the Istituto Italiano per gli Studi Storici in Naples, Visiting Fellow at the IKGF, and Research Fellow at Sapienza Università di Roma. She is currently Junior Research Fellow at the Scuola Superiore di Studi Avanzati, Sapienza Università di Roma, and a PhD candidate in Islamic Studies at the University of Naples "L'Orientale." Her research interests focus on Western Medieval texts and images dealing with Islam, eschatology, and geography.
Employment
| | |
| --- | --- |
| 2007 - 2010 | Max-Planck Postdoctoral Fellow, Kunsthistorisches Institut in Florenz – Max-Planck-Institut, Florence |
| 2010 - 2011 | Fellow, Istituto Italiano per gli Studi Storici, Naples |
Honors, Awards and Scholarships
| | |
| --- | --- |
| 1999 - 2002 | Postgraduate Fellow, University of Cassino Advanced School for Curators of Medieval Archives and Books |
| 2007 - 2010 | Max-Planck Postdoctoral Fellow, Kunsthistorisches Institut in Florenz-Max-Planck-Institut, Florence |
| 2010 - 2011 | National Research Prize "Benedetto Croce" and Fellowship at the Istituto Italiano per gli Studi Storici, Naples |
| Since 2010 | Member, Istituto per l'Oriente "Carlo Alfonso Nallino", Rome |
| 2011-2012 | Visiting Fellow, IKGF - Friedrich-Alexander-Universität Erlangen-Nürnberg |
| 2013-present | Member, The International Society for Medieval Latin Studies (SISMEL), Florence |
Selected Publications
Books and Editions
The Pseudo-Historical Image of the Prophet Muḥammad in Medieval Latin Literature: A Repertory (Studien zur Geschichte und Kultur des islamischen Orients, Beihefte zur Zeitschrift "Der Islam", n. F. 26), Berlin - Boston, DeGruyter, 2011
co-authored with Heather Coffey and Alberto Saviello, ed. by Avinoam Shalem, Constructing the Image of Muhammad in Europe, Berlin - Boston, DeGruyter, 2013
Jamshīd's takht or Solomon's mal'ab? Archaeological Reflections on Persepolis and Iṣṭakhr in Arabic and Persian Texts (9th-15th centuries) (Quaderni di Vicino Oriente, 9), Rome 2015 (in press)
Studien zu Paulinus Venetus De mapa mundi (MGH Studien und Texte, 58), Wiesbaden, Harrassowitz Verlag, 2015 (forthcoming)
Articles
"Problemi di Autografia nei testimoni del Compendium e della Satirica ystoria di Paolino Veneto", in Res Publica Litterarum: Studies in Classical Tradition 30 (2007), pp. 39-49
"New Sources for the Legend of Muḥammad in the West", in East and West 58 (2008), pp. 9-31
"Un'inedita biografia latina del Profeta Muḥammad", in Scienze dell'Antichità 17 (2011), pp. 743-747
"Salingua: The Story of an Error that Became a Toponym", in Oriente Moderno 92 (2012), pp. 135-141
"A 15th-Century Syncretistic Representation of the Prophet Muḥammad in a French Manuscript (Bibliothèque nationale de France, ms. français 52, f. 97r)", in Eurasian Studies 10 (2012), pp. 261-280
"Gioacchino Orientalista: il primo secolo di storia islamica nelle opere di Gioacchino da Fiore e le sue fonti", in Annali di Scienze Religiose n. s. 5 (2012), pp. 13-41
"The Eschatological Meaning of the Templum Domini (The Dome of the Rock) in Jerusalem", in Aevum 88 (2014), pp. 311-329
"The Dome of the Rock in Mecca: A Christian Interpretation of Muḥammad's Night Journey in a Fourteenth-Century Italian Map (Parma, Biblioteca Palatina, ms. parm. 1612)", in Le Muséon 128 (2015), pp. 215-240 (in press)
"The Qubbat al-Ṣaḫra in the 12th Century", in Oriente Moderno 95 (2015), pp. 1-22 (in press)
Other
"Il sapere geografico di Boccaccio tra tradizione e innovazione: l'imago mundi di Paolino Veneto e di Pietro Vesconte", in Roberta Morosini (ed.), Boccaccio geografo. Un viaggio nel Mediterraneo tra le città, i giardini e… il 'mondo' di Giovanni Boccaccio, Firenze, Mauro Pagliai Editore, 2010, pp. 67-87
"Appendix" to Maria Vittoria Fontana, "Muḥammad and Khadīja in an Illustration of a 14th century manuscript of the Satirica ystoria by Paulinus Venetus (ms. Vat. Lat. 1960)", in Gerhard Wolf – Catarina Schmidt Arcangeli (eds), Islamic Artefacts in the Mediterranean World: Trade, Gift Exchange and Artistic Transfer, Venezia, Marsilio 2010, pp. 210-212
"The Prophet in the Book: Images of Muḥammad in Western Medieval Book Culture", in Michelina Di Cesare – Heather Coffey – Alberto Saviello, Constructing the Image of Muhammad in Europe, ed. by Avinoam Shalem, Berlin - Boston, DeGruyter, 2012, pp. 9-32
"Pietro il Venerabile, Kaʽb al-Aḥbār e il Signum Ionae: per una nuova interpretazione del 'ritratto' di Muḥammad nel Corpus Cluniacense", in Marco Palma – Cinzia Vismara (eds), Per Gabriella. Studi in ricordo di Gabriella Braga<, Cassino, Edizioni Università di Cassino, 2013, vol. 2, pp. 771-796
"Reading the Bible through Glass: the Image of Muhammad in the Sainte-Chapelle", in Christiane Gruber – Avinoam Shalem (eds), The Image of the Prophet Between Ideal and Ideology: A Scholarly Investigation, Berlin - Boston, DeGruyter, 2014, pp. 145-157
"Petrus Alfonsi and Islamic Culture: Literary and Lexical Strategies", in Carmen Cardelle de Hartmann – Philipp Roelli (eds), Petrus Alfonsi and His Dialogus. Background – Context – Reception (Micrologus Library), Firenze, SISMEL, 2014, pp. 203-225
"A Game of Mirrors: Influences and Interactions between the Image of Musaylima in Islamic Literature and the Image of Muḥammad in Christian Literature", in Óscar de la Cruz Palma – Cándida Ferrero Hernández (eds), Vitae Mahometi. Reescritura e invención en la literatura Cristiana de controversia (Nueva Roma, Bibliotheca Graeca et Latina Aevi Posterioris, 41), Madrid, CSIC, 2015, pp. 41-54
"Sapiens minime hujusmodi paradisum credit, nec talibus decipitur verbis: Pietro Alfonsi e gli Arabes", in Elisabetta Benigni – Leonardo Capezzone (eds), Paradossi delle Notti, Saggi sulle 1001 Notte (Rivista degli Studi Orientali – Nuova Collana Orientale, 1), Pisa-Roma, Fabrizio Serra Editore, 2015, pp. 79-99
---