Signs of the Future
09-10 February 2021
Organization
Klaus Herbers(IKGF Erlangen)
Hans-Christian Lehner(IKGF Erlangen)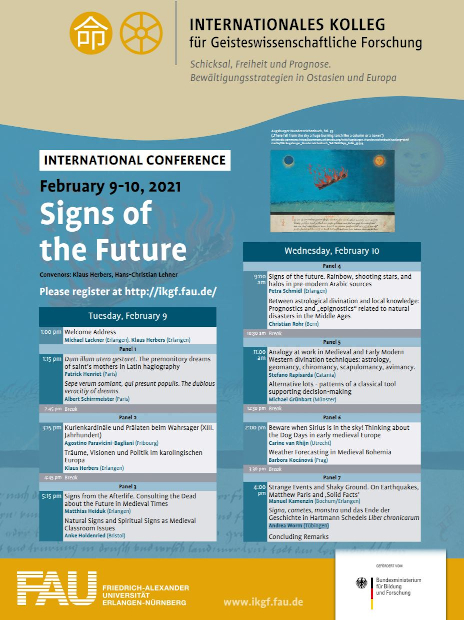 Workshop Venue
Online via Zoom (See registration below for more information.)
Downloads
Poster
Registration
Please register for this workshop until 8 February 2021 using this link.
Program
9 February, 2021
1:00 p. m.
Welcome Address
Michael Lackner (Erlangen),Klaus Herbers (Erlangen)
1:15 p. m.
Dum illum utero gestaret. The premonitory dreams of saint's mothers in Latin hagiography
Patrick Henriet (Paris)
Sepe verum somiant, qui presunt populis. The dubious veracitiy of dreams
Albert Schirrmeister (Paris)
2:45 p. m.
Break

3:15 p. m.
Kurienkardinäle und Prälaten beim Wahrsager (XIII. Jahrhundert)
Agostino Paravicini-Bagliani (Fribourg)
Träume, Visionen und Politik im karolingischen Europa
Klaus Herbers (Erlangen)
4:45 p. m.
Break

5:15 p. m.
Signs from the Afterlife. Consulting the Dead about the Future in Medieval Times
Matthias Heiduk (Erlangen)
Natural Signs and Spiritual Signs as Medieval Classroom Issues
Anke Holdenried (Bristol)
10 February, 2021
9:00 a. m.
Signs of the future. Rainbow, shooting stars, and halos in pre-modern Arabic sources
Petra Schmidl (Erlangen)
Between astrological divination and local knowledge: Prognostics and "epignostics" related to natural disasters in the Middle Ages
Christian Rohr (Bern)
10:30 a. m.
Break

11:00 a. m.
Analogy at work in Medieval and Early Modern Western divination techniques: astrology, geomancy, chiromancy, scapulomancy, avimancy.
Stefano Rapisarda (Catania)
Alternative lots - patterns of a classical tool supporting decision-making
Michael Grünbart (Münster)
12:30 a. m.
Break

2:00 p. m.
Beware when Sirius is in the sky! Thinking about the Dog Days in early medieval Europe
Carine van Rhijn (Utrecht)
Weather Forecasting in Medieval Bohemia
Barbora Kocánová (Prag)
3:30 p. m.
Break

4:00 p. m.
Strange Events and Shaky Ground. On Earthquakes, Matthew Paris and 'Solid Facts'
Manuel Kamenzin (Bochum/Erlangen)
Signa, cometes, monstra und das Ende der Geschichte in Hartmann Schedels Liber chronicarum
Andrea Worm (Tübingen)
Concluding Remarks

International Consortium for Research in the Humanities
"Fate, Freedom and Prognostication. Strategies for Coping with the Future in East Asia and Europe."
Friedrich-Alexander-Universität Erlangen-Nürnberg
Hartmannstr. 14
91052 Erlangen
Telefon: +49 (0)9131 85 - 64340
Fax: +49 (0)9131 85 - 64360
E-Mail: petra.hahm@fau.de
---